feed a family of 4 for (just over) £100 a month
Alternative Guide
If you have tried our menu planners and are now wondering whether you'll have to eat exactly the same things for the rest of your life, then worry not. We have compiled a few handy alternatives for some of the recipes to keep things interesting and prevent you and your family getting bored. After all, variety is the spice of life…
If your family are not too keen on porridge, consider making a baked cereal bar with the same ingredients (90g raisins, 40ml vegetable oil, 10g sugar, 110g oats, 105g instant oat cereal and a pinch of salt).
Try having your lunchtime spreads on toast instead of a sandwich for a bit of variety.
You could serve your pasta dishes cold as a pasta salad. The Amatriciana dish works particularly well chilled (and is scrumptious cold with a little fresh basil added).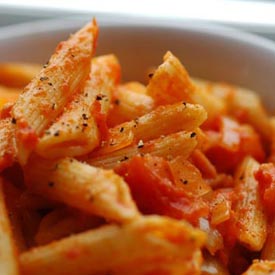 Getting bored of toast as a snack? Why not try baking one of your loaves into flavoured breadsticks?
Houmous can be used as a dip for home-made breadsticks or home-grown vegetables such as carrots, celery and cucumber sticks.
You can make basic crackers out of flour, oil, salt and water which could be served with the sandwich spreads. Mix together 1½ cups flour and ¼ teaspoon salt. Add 2 tbsp oil and knead the mixture for five minutes by hand. Add enough water to make a dough and then spread onto an oiled baking sheet. Bake for 10-12 minutes at about 160C and let cool for one hour before breaking into pieces.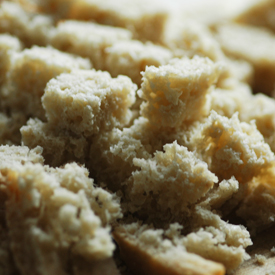 The savoury puddings can be made into pies with thinner pastry and oven-baked. Or you could make shortcrust pastry and fill with bacon and onion for individual cornish style pasties.
The chilli can be served as a filling for jacket potatoes and this is especially cheap if you can get the potatoes reduced or from a farm shop.
Any leftover chilli, as well as any leftover cottage pie, can be wrapped in a pastry crust and transformed into a tasty pie filling.
Try making melba toasts by toasting bread, splitting it in half and then toasting the insides until crispy. They make a delicious accompaniment to the houmous.
To vary the soups, consider making some crunchy garlic croutons to serve with them by cutting cubes of the home made bread and jostling them around on your baking sheet in a little oil and garlic powder. Pop these in the oven at gas mark 6 for 5-10 minutes for a tasty crunch with your soup lunches.
Try making a Croatian potato salad as an accompaniment to some of the meals on the planner. Boil potatoes in their skins before peeling and slicing them thinly. Add a thinly sliced raw onion and mix together, season with salt and dress with vegetable oil and vinegar. The onions could also be lightly stir fried if preferred. You will have to borrow 10g onion per person from the onion allocated for either the chilli or onion tart recipes for this dish though.
The Spanish omelette could become a flan filling if you have any spare flour to make up a pasty case.
If you are worried by the thought of making pastry for the onion tart or you have made it and it does not look like enough to line your dish, try making an onion/pea/carrot soup with mini cheese pastry bites instead.
Is the British summer too hot to have our hot dinners? Try having the tarts cold like a quiche instead.
You could make a coca mallorquina, which is essentially pizza type bread base with a vegetable topping. It is particularly good with red and yellow peppers and the best thing is that you do not have to totally cover the bread base (gaps in topping are perfectly acceptable and makes the topping go further). It's delicious cold and would be a good lunch time option.
No time to make pastry or fancy a change? How about making cheese and onion fritters (use the method for sweetcorn fritters to help you) or bacon and onion turnovers and turn those recipes into a ten minute express dinner, perfect for a weekday dinner when you are in a hurry!
Foraging for food provides another way to add variety with no extra cost. For example, why not make your apple curd with windfalls you spy on your way to work?
Or use wild garlic in your homemade houmous?
Or try adding a few tender nettle tops to your potato and onion soup as they are packed with protein.
Keep an eye out for anyone locally growing rosemary as a front garden hedge. It is so prolific that they will probably be very glad to allow you to trim it, and this will flavour the tomato sauce for the Amatriciana beautifully. One of our team recently opened the door to her neighbour asking this very question, and was happy to have the help with her pruning!
Elderberries and elder flowers are both edible and make tasty jams and cordials.
If you are unsure about wild foods, your library will lend you a book to help you for free.
Swapping a bag of rice for another bag of self-raising flour in your shopping list will save you a little money and also enable you to have our bean curry or our chilli with home made tortilla wraps. One member of our team makes tortillas on a regular basis following the recipe below and reports that they are easy to make and work brilliantly.
Tortilla
300g SR flour
1 tsp salt
2 tsp veg oil
180ml milk
Sift flour and baking powder into a bowl
Whisk milk, oil and salt
Pour into flour -stirring to mix
Once mixed, turn out onto a lightly floured worktop and knead for 2 minutes
Cover and leave for 15 minutes (it won't rise but needs to relax)
Cut into 8 balls (approx 50g each)
Cover and leave to relax for 10 minutes
Roll each one out into a round (approximately 8")
Heat a heavy frying pan (preferably cast iron)
Drop in one tortilla and turn after about 2 minutes (the surface should bubble) Press down with a tea towel but be careful that you you do not burn your fingers.
Place inside a dry tea towel to keep warm whilst you cook the rest.
You can also freeze the balls of dough. When they are defrosted they will be a bit stickier so you will need more flour when rolling out and they roll out bigger after freezing too.
Try a tortilla pizza as a quick snack, or if you cut them into triangles and fry them they become delicious tortilla chips.
Optional extras – ideal but not essential
liquidizer
soup ladle
2nd casserole dish
whisk
potato masher
silicone baking sheet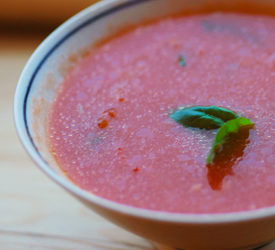 cheap family recipes feed a family of 4 for (just over) £100 a monthVegan Tomato & Basil SoupThis fresh and delicious tomato and basil soup is offered as an alternative option in the Celebration Week Planner, but can be enjoyed at any time, and as it uses tinned...
Take care of your family and your budget
Before putting together our meal planners we surveyed over 600 people to ask when faced with a tighter budget, which things they would struggle to give up.
Want to know more about how to feed yourself fantastically frugal food?