feed a family of 4 for (just over) £100 a month
Growing Your Own
If you thought that growing your own was only for keen gardening, green-fingered types with hours of time on their hands and acres of land to spare, then think again! We have compiled the following tips to give you the inspiration to try planting a few seeds of your own, even if you only have a tiny yard, balcony or windowsill. By doing so you could potentially save even more money, have the satisfaction of harvesting your own produce and it is a great way to get all the family involved.
Growing basil, chives, thyme and oregano on the window ledge in your kitchen would provide a brilliant way of jazzing up many of the dishes on the meal planners. For example, basil would be beautiful in the panzanella and homemade calzone, chives would be gorgeous in the Spanish omelette and thyme would be great in the vegan onion tarte tatin.
A packet of 'cut and come again' salad leaf seeds are easy to grow, ready to eat quickly and perfect for livening up sandwiches.
Chillies are very productive, are fairly simple to grow, and also freeze so you can have them all year round. Rocket can be grown easily and one team member found that her crop even survived the last atrocious winter and is now sprouting everywhere!
Cress can be grown on damp kitchen towel and is ready to harvest within a few days.
Any surplus herbs can be frozen in ice cube trays for using at a later date.
Rhubarb couldn't be easier if you have enough space to grow it in. Just pop it in, add manure to it in the winter, try not to pick the life out of it and you should have a forest in no time! It is particularly great for crumbles, compote, ice cream and as the base of a bakewell tart.
Try growing raspberries if you have space. They can cost a fortune to buy from the supermarket and you should get a significant amount from a half a dozen canes. What's more, growers say that canes will fruit for 10-12 years before needing to be replaced.
Strawberry plants last more than one year so become more financially worthwhile after the first year.
Any surplus fruit or veg could be frozen or made into jam or chutney which keeps well and could be given away as homemade presents.
You can harvest lots of runner beans from just twenty plants and any surplus could be turned into runner bean pickle.
Try growing peashoots to add to salads using the dried peas from the Risi e Bisi recipe. Just one tablespoon of peas yields a lot of peashoots and they can be grown very easily on the kitchen windowsill ready for adding to salads.
One team member found that herbs are by far the best value and if the only reason for growing your own is to save money, then it is best stick to herbs, chillies and salad leaves, with perhaps a couple of runner bean plants, a courgette plant and a couple of cucumber plants thrown in if you have the space.
Another team member (who lives in a small flat on the 22nd floor of a tower block) has successfully grown from seed: 2 types of cherry tomatoes (chosen specifically for their total plant height), salad leaves, spinach and purple carrots. The total cost was £5 with hundreds more seeds left to trade, or grow next year, or to grow and sell as small plants.
Give expensive gardening centres a miss and try your local pound shops and supermarkets for cheap gardening stuff such as bags of compost, plant pots and equipment instead.
However, be creative! You definitely do not need to spend a fortune on expensive gardening supplies. One team member used an old colander with a broken handle to successfully grow radishes in. The picture to the left shows our attempts to raise seedlings in an old egg carton!
An old bucket with holes drilled into the bottom for drainage makes an excellent large plant pot.
Save any old margarine containers and yoghurt pots for starting seeds off.
You could try swapping seeds, plants and produce with friends and family to get plenty of variety and prevent wastage.
It may sound obvious but only grow things that you or your family like and will actually eat to prevent all your hard work and effort going to waste.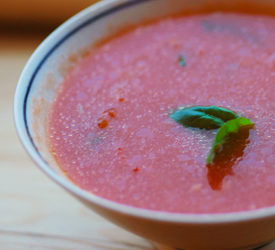 cheap family recipes feed a family of 4 for (just over) £100 a monthVegan Tomato & Basil SoupThis fresh and delicious tomato and basil soup is offered as an alternative option in the Celebration Week Planner, but can be enjoyed at any time, and as it uses tinned...
Take care of your family and your budget
Before putting together our meal planners we surveyed over 600 people to ask when faced with a tighter budget, which things they would struggle to give up.
Want to know more about how to feed yourself fantastically frugal food?