feed a family of 4 for (just over) £100 a month
How to plan a batch cooking day – why bother with batch cooking?
Our meal plans contain quite a few meals cooked from scratch, so you might be needing some tips on how to take 5 or 6 recipes and plan them into a day in the kitchen. This guide will help if you are new to the idea of cooking batches of food for your freezer to save you time in the week ahead.
I started batch cooking because I found it useful to cook when I had time & freeze individual portions, so when I am working I get in from work & just heat something up, rather than having to start cooking at 7pm.
Have a think about how involved you'd like the rest of the family to be. Just think what works for you. Are you a great believer that too many cooks will spoil the broth, or do you like lots of company on a busy day?
When my son was small and at the wanting to 'help' stage, the first thing made was play dough, which he 'helped' make, he felt he had 'helped' enough by then and would play with the play dough instead and leave me alone to cook 
It makes good sense to keep everyone informed.
…section the whole day off in your diary, let your children and spouse know. Ideally try and farm the children out somewhere.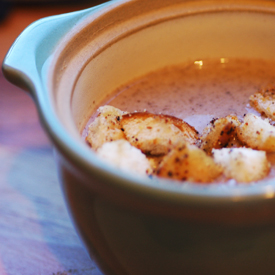 Prior to batch cooking day
Print off or write down all the recipes you've chosen, having a hard copy is great as you can make notes or adjust amounts to suit. Have a good read through each recipe and look up any new techniques. Consider watching a youtube video of someone making something you've never tried before. Maybe have a trial run of a new recipe, it's no good making a gallon of hot and spicy chilli if your family don't like it. If you're making a double or triple batch, scale up the recipe and write the new amounts down. Do check you've scaled everything up, even the seasonings, half the spice can make for a very bland dish! A trial run will also give chance for you to make sure a recipe works, there are lots that don't and the cooking times can vary with your oven.
Write out a shopping list of everything, don't think 'oh yes that's in the cupboard' as there may not be enough. Then check what you already have and what you need to get. Do the same for containers for the freezer and work out a labelling system. Bear in mind it may be easier and less wasteful to freeze in portions of 1 or 2 rather than all in fours.
The day before:
Check through recipes and put to soak any pulses that need soaking. Take the minced beef out of the freezer and check there is enough space for the new goodies heading that way.
Also write in your diary the soaking day (complete with timings) so example – Friday noon – red kidney beans soak for 24hrs and then boil for 1 hr. Also write in the shopping day so that you know that you have enough time to shop before picking the children up from school.
Physically get the containers you'll be using out of the cupboard and put them into the oven to see how many you can easily fit in, remembering to allow space for oven gloves etc. These should all be dishes that would be cooked at the same temperature.
On the day
Start with a clean kitchen, plenty of hot water and washing up liquid. Consult the timeplan and select the first recipe. Weigh out ingredients a la delia, hopefully stops any rushed mix ups where 3 teaspoons of salt becomes 3 tablespoons! One first recipe is underway, have a quick wash up and then from the timeplan start your second recipe.
I think it would be helpful to try to do a timeline. So starting with things that need pre-preparation such as soaking, marinading etc. Then times for things that need cooking for a long time i.e. casseroles or stews. Then work out what can be cooked at the same time, same over etc. Then anything that can be cooked whilst the others are underway. You could use something like a gant chart scheduled in 15 minute blocks. 
To create a timeplan.
If planning for a meal to be served at a set time, then it is easier to work backwards. (i.e. I want to serve the meal at 7.30, so I'll put the veg in at 7.20, so I'll start washing and chopping it at 7.) But for batch cooking where it's heading for the freezer, start at the beginning. If you are having a savoury day, where lots of chopped onions for example are required, then it is much easier to do these in one go. Check each recipe and gather what's needed, chop required amount for each and then put into a bowl and put with the recipe, it can be hard to tell how many onions there are once chopped. If space allows then cluster together ingredients for each recipe. Usually start with what will need cooking for the longest time or….what needs time to cool or rise.
Example of a batch day which starts at 10am.
Before you start cooking, fill your sink with very very hot soapy water so that you can put the dirty dishes in the water to soak and then wash them up quickly when you have a moment.
Planned recipes:
Bread, pastry, chilli, bolognaise, muffins
If you're cooking a lot of different dishes in the oven at the same time, you need to be aware that you might have to leave them in for longer to ensure that they're cooked.
time to do
10am recipe 1 bread, gather and weigh out ingredients
10.05 mix dough and knead, put to rise
10.20 recipe 2 pastry, gather and weigh ingredients
10.25 make pastry, divide into required amounts and put to chill
10.40 wash up
10.45 check bread dough
10.50 chop onions for recipes 3 & 4
10.55 make chilli and leave to simmer
11.10 check dough and knock back if ready, shape as desired, leave to rise, put oven on to heat
11.25 make bolognaise and leave to simmer
11.40 wash up
11.50 check dough and bake if ready
11.55 remove pastry from fridge and roll out to desired shape/size
…the timeplan will then depend upon what the pastry is being used for.
Muffins to follow pastry.
Chilli & bolognaise once cooked should be portioned and allowed to cool as quickly as possible then lids sealed and labelled and into freezer.
Once the cooking is done – how/where is it going to be cooled & how/where stored? I quite often end up with lines of individual pots across the kitchen floor, as it is the only place where there is enough space for them to sit until cool enough for freezer. I mostly use supermarket value tubs; but also old take away cartons, marg tubs, ice-cream tubs etc. 
Plan to do the more delicate flavoured stuff, so baking really first. Work out the temperatures that each recipe needs to be cooked at, and start off with the lowest, so you gradually heat the oven up, think about the order in which you make things in terms of minimising washing up. With a good silicone spatula I can get away with very little washing between batches! Prepare any vegetables e.g. onions in batches (you can do a whole lot in the food processor if you have them – again, starting with the least pungent). Store the batches of prepared ingredients in large bowls and then weigh out what you need as you go along. Its easier to assemble each dish then rather than cook each from scratch, and you can get your FP/chopping stuff out of the way to leave space for everything else you need 
Remember to look after yourself, a day in the kitchen can be hard work, they don't call it slaving over a hot stove for nothing!
Fill the kettle so you can have a cup of tea when you're waiting for the dishes to cook in the oven and you've washed up the dirties. I always try and fill the dishwasher as much as possible! E.F. England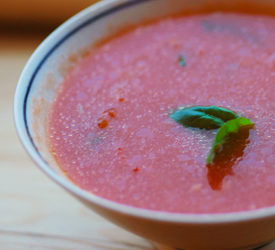 cheap family recipes feed a family of 4 for (just over) £100 a monthVegan Tomato & Basil SoupThis fresh and delicious tomato and basil soup is offered as an alternative option in the Celebration Week Planner, but can be enjoyed at any time, and as it uses tinned...
Take care of your family and your budget
Before putting together our meal planners we surveyed over 600 people to ask when faced with a tighter budget, which things they would struggle to give up.
Want to know more about how to feed yourself fantastically frugal food?