feed a family of 4 for (just over) £100 a month
Bread and Carrot Loaf (and calzone)
This recipe makes 3 normal loaves, a spiced carrot and raisin loaf and 4 calzone
If you don't want the carrot loaf, use the recipe for 4 loaves
If you just want to make the calzone, the recipe for that on its own is here
If you aren't following meal plan 2, there is no need to use instant oat cereal or self raising flour, use all strong bread flour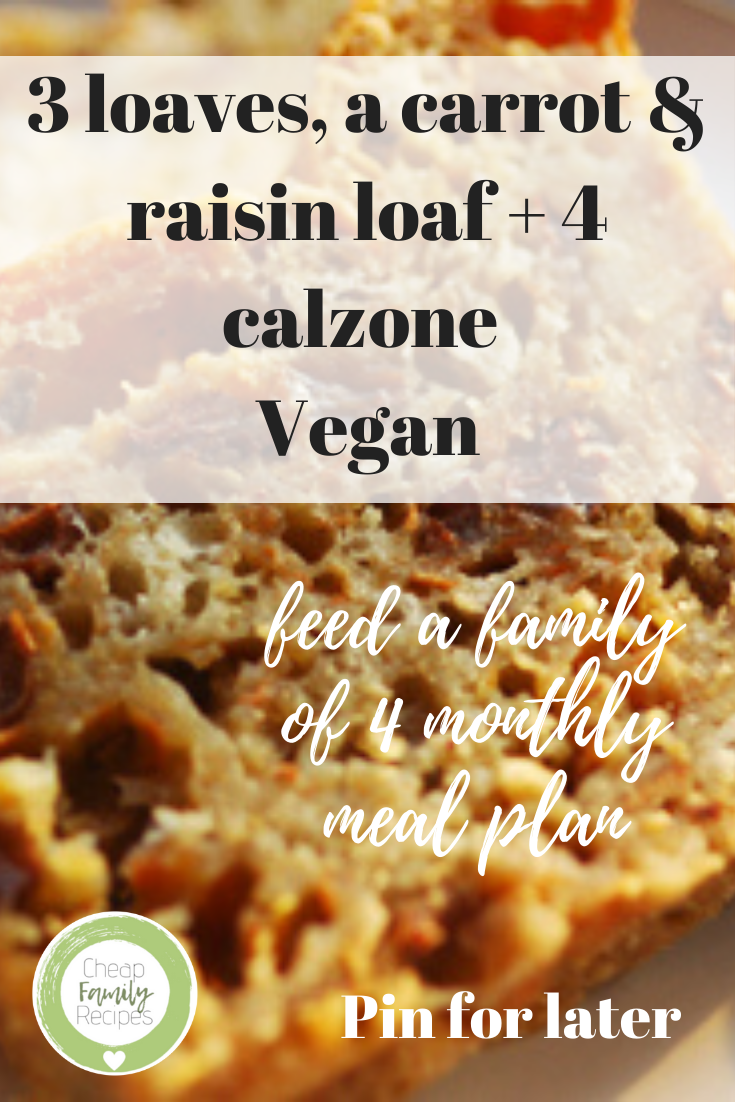 Cost per portion
£2.68 for everything
Click on the check box to cross off Equipment, Ingredients or Recipe Steps completed.
If you click and buy anything, I may get a small commission on the purchase. It won't cost you anything extra. Some are just things that I like and/or use myself rather than necessarily best value 🙂
If you enjoyed this recipe, would you please consider leaving a review? It would really help
Ingredients
Loaves & Carrot Bread
1.5

kg

bag of white bread flour

250

g

SR flour

250

g

instant oat cereal

15

g

Allinson's yeast

3

tsp

salt

tsp

sugar

75

g

sugar

220

g

carrot

grated

100

g

raisins

soaked in boiling water

1

tsp

garam masala

2 ¼

pts

very warm water

oil to grease tins
for the tomato sauce
3

tsps

garlic powder

2

cans

chopped tomatoes

30

g

tomato puree

25

g

olives

very thinly sliced with your sharpest knife

1

leaf

basil

torn into little strips, per calzone, 4 leaves in total (optional)

3

dessertspoons

vegetable oil

black pepper

freshly ground
Bechemal Sauce
280

ml

tap water

100

g

onions

thinly sliced into rings

3

dessertspoons

flour

3

dessertspoons

vegetable oil

2

teaspoons

mustard
Instructions
Loaves & Carrot Bread
Warm 1.5 kg of white bread flour, with the self-raising flour and instant oat cereal in the oven on gas 1 in a large metal pan first.

Activate 15g yeast according to instructions on packet. If your packet does not specify, activate by mixing the yeast and 1 teaspoon of sugar in a small cup of hand-hot water, leaving it until it forms a foamy head as is shown in the picture.

The water temperature should be between 105° F. and 115° F. Use an instant read thermometer if you have one, if not, test the water against the inside of your wrist by holding it under the tap it should feel very warm but not hot.

Add salt to the warmed flour.

Add about 2¼ pts warm water (including the water in which you activated the yeast), gradually until you get a not too slippy dough.

Mix by hand, or with a spoon. No need to knead.

Put a fifth of the dough into each of 3 of your 4 greased or lined loaf tins. Silicone loaf tins are great if you have these already.
Carrot & Raisin Loaf
Halve the remaining dough, and put one half to one side for calzone pizzas. Add the raisins, drained, and your carrot, grated and the 75g sugar to the remaining half of the dough and mix.

Put this mixture into your 4th greased tin. Leave in a warm place to rise for 40 ish mins until dough peeks about 1 cm above the top of the tin. (the carrot loaf may not rise as much as the others, don't worry, just pop it in when the others are ready!

Bake all the loaves for 25 mins on 200c / 180°c fan /gas mark 6, or until browned on top and sounds hollow when tapped with a knuckle.
Calzone
Put the dough in a warm place for approx 45 minutes to 1 hr until fat and puffy.

While this is happening, prepare your sauce: fry the tomatoes, puree and seasonings in the oil, reducing them down until it is a thick glossy sauce. You will need to crush the tomato chunks with the back of your wooden spoon to achieve a relatively smooth paste. If you prefer, you can make the sauce even smoother in your food processor.

Quarter the dough and roll each one out on a floured surface. You want to get them roughly round, approximately approximately 3 mm thick, they should be around 30cm diameter. You can now either keep these in the fridge, until you're ready to cook them, or you can put your filling in and cook them straight away.

Now make the bechamel sauce. Mix the flour, yeast extract and mustard and salt with the oil in a saucepan over a moderate heat to form a runny smooth paste, then gradually add the water, stirring quickly after each addition of water to prevent lumps. Taste, and adjust seasonings. It should have a very mildly savoury cheese saucy flavour even though it has no cheese.

Stir in the onion rings and cook for a further 5 minutes, stirring until the onions are soft. You are aiming for a thick sauce here, like a creamy mashed potato. A thinner sauce might puncture the calzone and ooze out. Smear 1 quarter of the tomato sauce over half of the dough, add 1 large leaf of basil torn into little strips (optional) and then add the oniony bechamel sauce.

To make your calzone, carefully lift the far edge of the pizza dough and pull it over the top towards you, – you need to fold them in half.

Moisten edges of calzone. Press the moistened edges so none of the sauce can spill out. Place the 4 calzone side by side on a floured baking tray, or two.

Bake for approx. 8-10 mins in a brisk oven (230c / 210°c fan /gas mark 8), or until the dough just begins to brown.

Just after crimping the edges, but before the last baking is the best time to freeze these.
Notes
Loaves & Carrot Bread: NB if you are cooking fewer than 4 loaves, always use at least  7g yeast even if you reduce all the other quantities.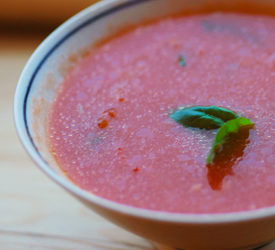 cheap family recipes feed a family of 4 for (just over) £100 a monthVegan Tomato & Basil SoupThis fresh and delicious tomato and basil soup is offered as an alternative option in the Celebration Week Planner, but can be enjoyed at any time, and as it uses tinned...
Take care of your family and your budget
Before putting together our meal planners we surveyed over 600 people to ask when faced with a tighter budget, which things they would struggle to give up.
Want to know more about how to feed yourself fantastically frugal food?