feed a family of 4 for (just over) £100 a month
The ginger syrup loaf is SO good! 
The instant oat cereal is there for those following the monthly plan fully. The cereal has added calcium which is needed if this plan is all you are having during the month
See the post on general bread making for lots of tips and ideas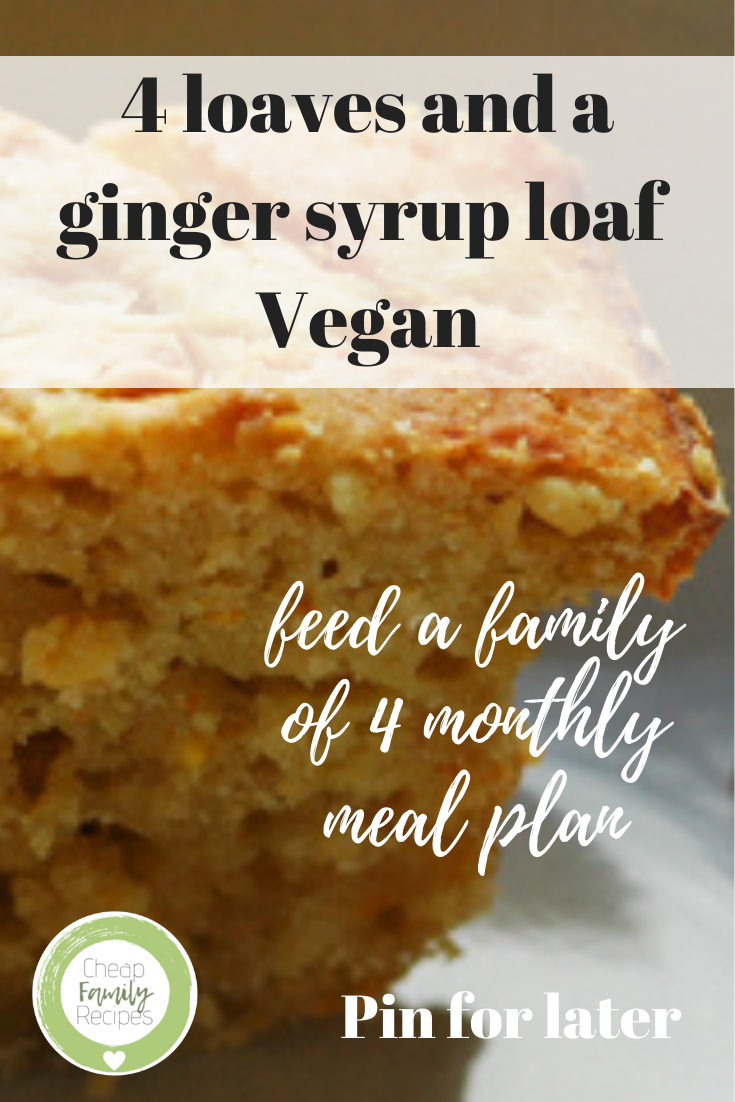 Servings:
80
slices from 5 loaves
Cost per portion
34p per loaf
Ingredients
1½

kg

white flour

strong, bread flour

250

g

flour

self raising

250

g

oats

instant oat cereal

15

g

yeast

3

tsp

salt

1

tsp

sugar

2¼

pts

very warm water

oil to grease tins
Ginger Syrup Loaf Extras
140

g

sugar

50

g

root ginger

1

tsp

garam masala
Instructions
Warm 1.5 kg of white bread flour, with the self-raising flour and instant oat cereal in the oven on gas 1 in a large metal pan first.

Activate 15g yeast according to instructions on packet. If your packet does not specify, activate by mixing the yeast and 1 teaspoon of sugar in a small cup of hand-hot water, leaving it until it forms a foamy head as is shown in the picture.

The water temperature should be between 105° F. and 115° F. Use an instant read thermometer if you have one, if not, test the water against the inside of your wrist by holding it under the tap it should feel very warm but not hot.

Add salt to the warmed flour.

Add about 2½ warm water (including the water in which you activated the yeast), gradually until you get a not too slippy dough.

Mix by hand, or with a spoon. No need to knead.

Put a fifth of the dough into each of 4 of your 5 greased or lined loaf tins. Silicone loaf tins are great if you have these already.

Add the ginger, sugar and garam masala, to the remaining fifth of the dough and mix well.

Put this mixture into your 5th greased tin. You can use a 10 inch round cake tin, or pyrex dish if you don't have a fifth loaf tin. Leave in a warm place to rise for 40 ish mins til dough peeks about 1 cm above the top of the tin. (The ginger loaf may not rise as much as the others, don't worry, just pop it in when the others are ready!

Bake for 25 mins on gas mark 6, or until browned on top and sounds hollow when tapped with a knuckle.
Notes
NB if you are cooking fewer than 5 loaves (4 plain, and a sweet one), always use at least 10g yeast even if you reduce all the other quantities.
Nutrition
Nutrition Facts
bread and a spicy ginger loaf
Amount per Serving
% Daily Value*
* Percent Daily Values are based on a 2000 calorie diet.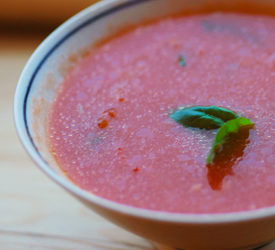 cheap family recipes feed a family of 4 for (just over) £100 a monthVegan Tomato & Basil SoupThis fresh and delicious tomato and basil soup is offered as an alternative option in the Celebration Week Planner, but can be enjoyed at any time, and as it uses tinned...
Take care of your family and your budget
Before putting together our meal planners we surveyed over 600 people to ask when faced with a tighter budget, which things they would struggle to give up.
Want to know more about how to feed yourself fantastically frugal food?