feed a family of 4 for (just over) £100 a month
Vegan doughnuts! Ooh, what a lovely treat. 
How to make doughnuts
Mix up a loose bread type dough, but with some sugar added. Leave to rise until doubled in size.
Take tblps of dough and drop, 3 or 4 at a time, into sizzling hot oil and fry until golden brown, tipping them over half way through so they brown on both sides
Toss in sugar to finish
Other Doughnut Flavours – Chocolate Doughnuts?
If you have any, you could use cinnamon or mixed spice in with the sugar coating
Put jam or thick custard in the middle, or chocolate spread. 
Mix some cocoa in with the doughnut mix for chocolate doughnuts, dust with sugar and cocoa, and maybe fill with chocolate spread, or raspberry jam
Or try dissolving some strong coffee in the dough, and glazing with a coffee glaze, or add some ground coffee to the sugar dusting and fill with an orange custard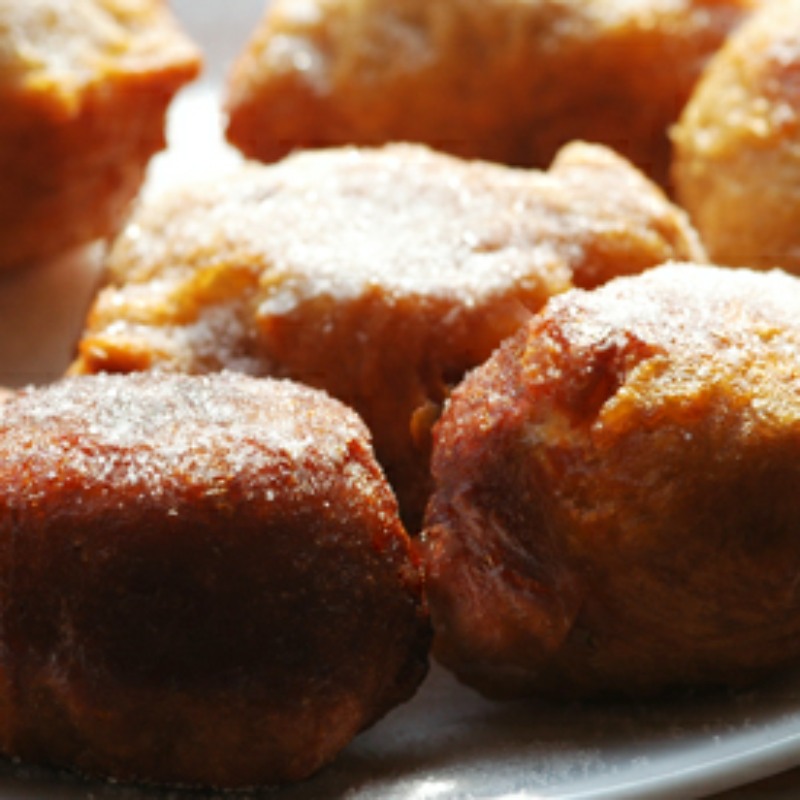 Click on the check box to cross off Equipment, Ingredients or Recipe Steps completed.
If you click and buy anything, I may get a small commission on the purchase. It won't cost you anything extra. Some are just things that I like and/or use myself rather than necessarily best value 🙂
If you enjoyed this recipe, would you please consider leaving a review? It would really help
Ingredients
1.5

kg

white bread flour

500

g

self raising flour

15

g

dried, instant yeast

2

tsp

salt

125

g

sugar

7

tsp

yeast extract

dissolved in hot water

2 ¼

pts

very warm water

A little oil to grease your tins, and 500 ml of oil to fry your doughnuts (you will be able to reuse this, unless you burn the doughnuts.)
Instructions
Warm 1.5 kg of white bread flour, with the self-raising flour in the oven on gas 1 in a large metal pan first.

Activate 15g yeast according to instructions on packet. If your packet does not specify, activate by mixing the yeast and 1 teaspoon of sugar in a small cup of hand-hot water, leaving it until it forms a foamy head as is shown in the picture.

The water temperature should be between 105° F. and 115° F. Use an instant read thermometer if you have one, if not, test the water against the inside of your wrist by holding it under the tap it should feel very warm but not hot.

Add salt to the warmed flour.

Add about 2 1/2 pts warm water (including the water in which you activated the yeast, and the hot marmite water), gradually til you get a not too slippy dough.

Mix by hand, or with a spoon. No need to knead.

Stir 100g of sugar into this dough, and put it in a warm place covered with a damp tea towel, until it doubles in size. Once the batch of dough has doubled in size, heat approx 2-3 inches depth of oil in a heavy bottomed metal pan, and place on a medium heat.

Wait 4 minutes, or until a tiny blob of dough sizzles quickly and puffs when you add it to the oil.

Have a teatowel ready, lining a bowl to drop the cooked doughnuts onto once they are cooked. Then gently drop tablespoon sized balls of the dough into the hot oil, agitate them with a metal spoon after a couple of minutes to loosen them from the bottom of the pan so they rise to the top of the oil.

Remove with a slotted metal spoon when they are a warm golden brown. Fry just 4-6 at a time, so they don't over cook while you fish them out! Coat them in the remaining sugar.
Equipment Needed
Nutrition
Nutrition Facts
Vegan Doughnuts
Amount per Serving
% Daily Value*
* Percent Daily Values are based on a 2000 calorie diet.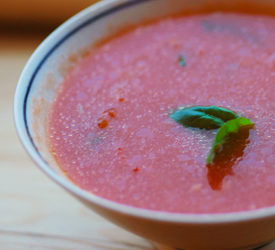 cheap family recipes feed a family of 4 for (just over) £100 a monthVegan Tomato & Basil SoupThis fresh and delicious tomato and basil soup is offered as an alternative option in the Celebration Week Planner, but can be enjoyed at any time, and as it uses tinned...
Take care of your family and your budget
Before putting together our meal planners we surveyed over 600 people to ask when faced with a tighter budget, which things they would struggle to give up.
Want to know more about how to feed yourself fantastically frugal food?