feed a family of 4 for (just over) £100 a month
There is 15p per person, per day, allocated in the given budget for the month for fruit. This isn't much and you will need to shop carefully if you want to stick with this.
The meal plan is priced at Asda as they have many ingredients that Lidl and Aldi do not. If you can get fruit cheaper there, or in a market, you'll get more for your money
At the time of writing (June 2020) the following could be had at Asda
Kiwi – 15p each
Small apples – 17p each
Some bananas – 15p each
Grapes at £2.50 kg, 60g a portion
A whole pineapple for 90p, so 6 portions
Frozen berry medley, £3 a kilo, 20 portions (50g each)
Watermelon slices 35p, so 2 portions
Value tin peaches, 2 portions
Value tin pineapple, 2 portions
Value mandarins, 2 portions
A whole coconut for 59p for lots of fun getting all the meat out (I know it doesn't count as fruit in this context)
Maybe splash out 58p on a tin of Asda evaporated milk and add a splash to a portion of the tinned or frozen fruit (not vegan of course)

Click on the check box to cross off Equipment, Ingredients or Recipe Steps completed.
If you click and buy anything, I may get a small commission on the purchase. It won't cost you anything extra. Some are just things that I like and/or use myself rather than necessarily best value 🙂
If you enjoyed this recipe, would you please consider leaving a review? It would really help
Ingredients
120

g

raisins

100

ml

vegetable oil

210

g

self raising flour

50

g

sugar

60

g

instant oat cereal
Instructions
Soak 120g raisins in some left over tea to soak up and get plump. Heat the oven to 220C/425F/Gas 7. Lightly grease a baking sheet.

Mix together the flour, sugar and cereal.

Stir in the raisins and then the oil and tea from soaking the raisins, to get a soft dough.

Turn on to a floured work surface and knead very lightly. Pat or gently roll out to around 2cm thick. Use a 1.5in cutter to stamp out rounds and place on the baking sheet. Lightly knead together the rest of the dough and stamp out more scones to use it all up.

Brush the tops of the scones with a little water. Bake for 12 minutes until well risen and golden. Cool on a wire rack.

Makes 24 little scones, make 4 batches in the month.
Nutrition
Nutrition Facts
fruity scones
Amount per Serving
% Daily Value*
* Percent Daily Values are based on a 2000 calorie diet.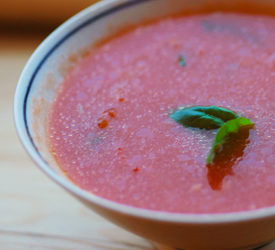 cheap family recipes feed a family of 4 for (just over) £100 a monthVegan Tomato & Basil SoupThis fresh and delicious tomato and basil soup is offered as an alternative option in the Celebration Week Planner, but can be enjoyed at any time, and as it uses tinned...
Take care of your family and your budget
Before putting together our meal planners we surveyed over 600 people to ask when faced with a tighter budget, which things they would struggle to give up.
Want to know more about how to feed yourself fantastically frugal food?