feed a family of 4 for (just over) £100 a month
Pork Shoulder Celebratory Lunch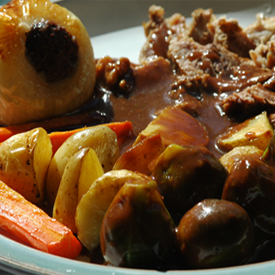 Click on the check box to cross off Equipment, Ingredients or Recipe Steps completed.
If you click and buy anything, I may get a small commission on the purchase. It won't cost you anything extra. Some are just things that I like and/or use myself rather than necessarily best value 🙂
If you enjoyed this recipe, would you please consider leaving a review? It would really help
Ingredients
Ingredients
1.3

kg

pork shoulder joint

or pork leg joint (you will serve approximately half of this joint at this celebratory meal)

320

g

carrots

320

g

brussel sprouts

700

g

potatoes

2

cloves

garlic

2

tblsp

oil

for roasting
cochons en couverture
4

onions

2

sausages

smartprice, halved
Yorkshire Puddings
1

egg

40

ml

evaporated milk

40

ml

water

mix with milk

2

tbsp

fat from the roast

75

g

self-raising flour
Gravy
400

ml

apple juice

vegetable cooking water

2

tbsps

flour

A sprig of rosemary, or thyme or a few sage leaves if you have them
Stuffing
150

g

breadcrumbs

160

g

onion

35

ml

oil

sage leaves if you have them

salt and ground black pepper to taste
Instructions
Six and a half hours before you want to serve the meal:
Start by warming your oven on its highest setting.

Put your pork joint onto a clean work surface, with the skin side facing upwards. Using a small sharp knife, make scores approximately a centimetre apart through the skin into the fat, but ensure they are not so deep that you cut into the meat. If your joint is tied with string then try not to cut through the string. Rub salt into the scores you have made, pulling the skin apart slightly if required.

Brush off any excess salt from the surface of the joint and then turn it over. Using a few pinches of salt and pepper, season the underside of the meat.

Place the pork joint with the skin side-up, into a roasting tray and put it into the oven preheated to 200°C/400°F/Gas mark 6 .
Stuffing
Finely chop the onion, or whizz in a food processer. Mix all stuffing ingredients together. Place in a small roasting tin and drizzle with oil.
Yorkshire Pudding
Put all the ingredients for the Yorkshire puddings into a large bowl or food processer and whizz until well combined.
Cochons en Couverture
Cut the top and bottom centimetre off 4 medium onions, approximately the size of tennis balls.

Using your potato peeler/apple corer, remove the centre of the onion, gouging a hole the same diameter as the sausage.

Cut 2 sausages in half and insert into the onion cavity.

Roast these along with your potatoes. Reserve the centres of your onions to add more flavour to your gravy.
An hour and a half before you want to serve the meal.
Take the meat out of the oven, remove the foil, and baste the meat with the fat that has collected in the bottom of the tray.

Return to the oven again, this time without the foil to roast for another hour. The meat should now be tender and soft.

Peel the potatoes and chop into even sized pieces.

Boil for 4-5 minutes until almost done. Drain, saving the vegetable water.

While the potatoes are still hot, place them in a roasting dish or tray and rough the edges a little. Drizzle with oil, add some salt and pepper.

Place on the top shelf of the oven.

Wash the carrots, and cut off the top as close to the top as you can. You need large pieces of carrots as you are going to roast them, so cut into pieces 3 ins long and then cut in half lengthways.

Peel the onions. Chop any very large onions into halves, or quarters if very large.

Place the carrots and onions in a roasting dish or tray that is just large enough to hold them. Toss through a little oil and grind over some salt and pepper. Tuck in a bay leaf or two and some whole garlic cloves if you have them, don't worry if you don't.

Place the carrots and onions in the oven, on the middle shelf, under the potatoes.
40 Minutes before you want to serve the meal
Turn the oven up to 220°C/Gas mark 7/425°F.

The meat is now cooked, you need to cook the Yorkshire puddings and stuffing. Carefully transfer the meat from the roasting dish into a serving dish. Covering it again with tin foil, leave it to rest and keep it warm.

Remove the roasted vegetables and cover with foil, keep warm.

Move the potatoes to the top shelf if they are not there already. Place 2 tbslps oil in the pudding tin(s). Use some of the pork fat from the roasting tin if you can for extra flavour. Place the Yorkshire pudding tin on the middle shelf to heat.

When really hot, remove, place on the worktop and tip/spoon the batter in, it should sizzle when it hits the tin. Immediately place back in the oven and cook for about 20 minutes for small ones, 25-30 minutes for a large one, until risen and golden brown.

After a while, place the stuffing or stuffing balls on the bottom shelf and cook for 15-20 minutes. While the pudding and stuffing are cooking, make your gravy.

Spoon away any excess fat in the tray (keeping it for later use) then add the apple juice and place the tray on the hob. Bring it to the boil and allow it to simmer for a few minutes, stirring constantly with a wooden spoon to stir in the tasty bits from the bottom of the tray. Add salt and pepper and a little mustard if you have it, don't worry if you haven't.

You can add herbs now if you like, a sprig of thyme or rosemary would be nice, or some sage leaves. Stir in 2 tblsps flour and whisk gently to incorporate. Taste and adjust seasoning if necessary.

If the flour won't whisk in and you have lumps, take any herbs out, put the gravy in a jug and give it a little whizz with a stick blender, or push it through a sieve. When the gravy is a nice, dark colour pour it into a bowl or gravy boat and keep warm.

Finally, put the Brussels sprouts in a saucepan on the hob with a little salted water and simmer until tender, drain.

Check the puddings and stuffing. The potatoes should be a deep golden brown with a lovely crunch. If the potatoes need a bit longer, take everything else out and keep warm while the potatoes have a final blast. Now you're all ready.

Serve 100g of pork per person, reserving the rest for other meals in the week. Don't forget the crackling!

Keep any leftover vegetables for your spanish omelette and your pork for the pork in tortilla wraps, if you are following our Christmas planner.
Equipment Needed
Nutrition
Nutrition Facts
Pork Shoulder Celebratory Lunch
Amount Per Serving
Calories 1245
Calories from Fat 567
% Daily Value*
Fat 63g97%
Cholesterol 214mg71%
Sodium 784mg34%
Potassium 2393mg68%
Carbohydrates 107g36%
Protein 63g126%
Vitamin A 14083IU282%
Vitamin C 107mg130%
Calcium 311mg31%
Iron 13mg72%
* Percent Daily Values are based on a 2000 calorie diet.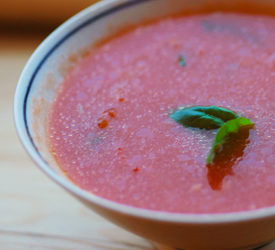 cheap family recipes feed a family of 4 for (just over) £100 a monthVegan Tomato & Basil SoupThis fresh and delicious tomato and basil soup is offered as an alternative option in the Celebration Week Planner, but can be enjoyed at any time, and as it uses tinned...
Take care of your family and your budget
Before putting together our meal planners we surveyed over 600 people to ask when faced with a tighter budget, which things they would struggle to give up.
Want to know more about how to feed yourself fantastically frugal food?