feed a family of 4 for (just over) £100 a month

Click on the check box to cross off Equipment, Ingredients or Recipe Steps completed.
If you click and buy anything, I may get a small commission on the purchase. It won't cost you anything extra. Some are just things that I like and/or use myself rather than necessarily best value 🙂
If you enjoyed this recipe, would you please consider leaving a review? It would really help
Ingredients
300

g

dark chocolate

broken up

6

eggs

seperated

155

g

sugar
For the filling
100

ml

whipping cream

20

g

sugar
Instructions
Method for seperating eggs
Use 3 bowls, one to crack each egg into, one for the yolks and one for the whites. Crack the egg, then once you have checked the yolk hasn't broken, gently lift the yolk out of the white. Opening your fingers slightly will allow more of the white to drip back into the bowl, away from the yolk.

Place this yolk into another bowl, and tip the white into the third.

Crack your next egg into your first, now empty bowl and repeat this process. If you do split the yolk of any, pop them in the fridge ready for use in your eggy bread.
Make the roulade
Preheat your oven to 180°C/fan160°C/gas 4.

Grease and line a 28 x 38cm Swiss roll tin with baking paper.

Melt 175g of chocolate in a bowl in your microwave or over a bain-marie on your hob. Put an inch or two of water in a saucepan. Put a bowl into the pan so that it fits snugly but the bottom is above the water (you want the steam to melt the chocolate gently).

Break up the chocolate and put it in the bowl. Stir occasionaly, so that the chocolate melts evenly.

Allow this to cool for approximately 10 minutes, so it is still stirrable but feels only just warm to your fingertip.

Whisk the egg yolks and sugar together in a large bowl, with an electric whisk ideally until it is paler in colour and aerated like a mousse.

Gently add the melted chocolate, stirring with a cutting and folding motion, using a metal spoon

Whisk the egg whites to peaks.

Stir a spoonful into the chocolate mixture, then carefully fold in the rest with a metal spoon.

Pour into the tin and bake for 20 minutes, until soft and springy under your finger.

Click here to start a 20 minute timer

Cool and cover with a damp tea towel. Then chill for at least 2 hours.
Make the filling
While the roulade cools, make the filling.

Whisk the cream until firm. Add the sugar to it. Cover and chill until needed.

Add the sugar to it. Cover and chill until needed.
Assemble the roulade
Carefully turn out the roulade onto a sheet of baking paper.

Make a bark for your yule log. Melt the remaining chocolate, then allow to cool until slightly thickened.

Pour onto a lined baking sheet, smear thinly.

Chill until the chocolate is firmer but malleable, this took 5 minutes.

Click to start a 5 minute timer

Then rip the chocolate layer into rough-edged pieces. Put back on the baking sheet, and place in fridge.

Chill for 20 minutes until crisp.

Click here to start a 20 minute timer

Spread the cream evenly all over the top of the roulade. Holding the baking paper, lift up the short edge and roll up the roulade, it will probably crack, but this is not seen in the finished product.

Transfer onto your serving plate.

Make a sugar 'glue' by stirring a tablespoon of sugar into a tablespoon of freshly boiled water, stirring until you have a smooth wet paste.

Spread the sugar and water glue over the top of the sponge, then arrange the chocolate on top, overlapping.

Chill for at least an hour before serving.
Nutrition
Nutrition Facts
chocolate roulade
Amount per Serving
% Daily Value*
* Percent Daily Values are based on a 2000 calorie diet.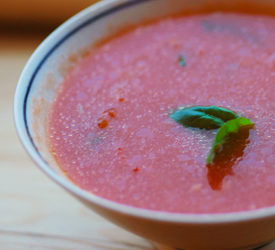 cheap family recipes feed a family of 4 for (just over) £100 a monthVegan Tomato & Basil SoupThis fresh and delicious tomato and basil soup is offered as an alternative option in the Celebration Week Planner, but can be enjoyed at any time, and as it uses tinned...
Take care of your family and your budget
Before putting together our meal planners we surveyed over 600 people to ask when faced with a tighter budget, which things they would struggle to give up.
Want to know more about how to feed yourself fantastically frugal food?