feed a family of 4 for (just over) £100 a month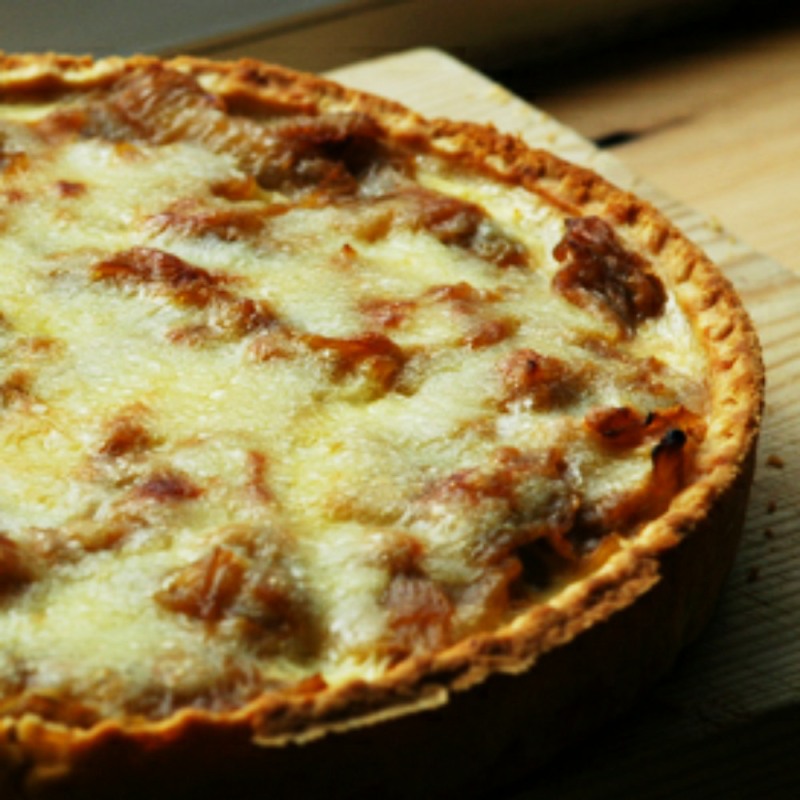 Click on the check box to cross off Equipment, Ingredients or Recipe Steps completed.
If you click and buy anything, I may get a small commission on the purchase. It won't cost you anything extra. Some are just things that I like and/or use myself rather than necessarily best value 🙂
If you enjoyed this recipe, would you please consider leaving a review? It would really help
Ingredients
For Filling
80

g

Cheddar cheese

grated

15

g

grana padano

finely grated

2

eggs

700

g

onion

(trimmed and peeled weight), chopped into pieces no larger than an inch

110

ml

whole milk

40

ml

vegetable oil
For pastry
40

ml

vegetable oil

150

g

self-raising flour

2

tsps

mustard powder

3

tbsps

cold water
Instructions
Pastry
Make the pastry by sifting the flour and mustard powder into a mixing bowl, then stir in 40 mls of oil.

Add cold water, up to 40 mls until you have a dough that forms a ball and leaves the bowl clean. Just stir the mix with a spoon, don't try to rub it in

Leave to rest at room temperature for half an hour.
Filling
Meanwhile, prep the filling. Put the oil in a heavy-based saucepan, then add the onions, stir to get them well coated in the oil, and cook them (uncovered) over a medium heat for about half an hour until they have reduced and turned a deep brown (caramelised).

They may take as long as 45 minutes. Keep an eye on them towards the end as they may start to stick. If they do, add a splash of water and stir

Click here to start a 30 minute timer

If you cook them for less long, or like them less caramelised, you'll need to cook 50-100g less onions, as they will have reduced less in size.

Roll out the pastry to the thickness of a 20p piece to line the tart tin, prick the base with a fork, place it on the pre-heated baking sheet, and bake in the centre of oven for up to 15 minutes.

Check at 5 minutes and if the pastry seems to have puffed a little and turned a strawlike colour (ie barely browned), remove earlier than the 15 mins.

Click here to start a 5 minute timer

Then spread the onions all over the base of the tart, whisk the beaten eggs together with the milk and some seasoning, and pour this mixture over the onions.

Finally sprinkle both cheeses over the top, return the tart to the oven and bake for 30 minutes or until the filling is puffy and golden brown.

Click here to start a 30 minute timer
Serve With
Serve with 320g peas (80g per person).

and 1kg potatoes made into potato wedges, or peel, boil and mash them
Nutrition
Nutrition Facts
onion tart
Amount per Serving
% Daily Value*
* Percent Daily Values are based on a 2000 calorie diet.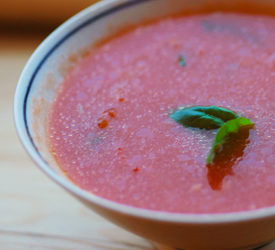 cheap family recipes feed a family of 4 for (just over) £100 a monthVegan Tomato & Basil SoupThis fresh and delicious tomato and basil soup is offered as an alternative option in the Celebration Week Planner, but can be enjoyed at any time, and as it uses tinned...
Take care of your family and your budget
Before putting together our meal planners we surveyed over 600 people to ask when faced with a tighter budget, which things they would struggle to give up.
Want to know more about how to feed yourself fantastically frugal food?