feed a family of 4 for (just over) £100 a month
How to make vegan porridge oats
Making porridge is a fairly easy recipe even though there are lots of different ways to make it.
In meal plan 1 we make them like this
Mix all the ingredients together in a saucepan over a moderate heat with enough water (900ml) to achieve a runny consistency.

Stir gently until oats have absorbed all the water, and mix has come together like a thick paste.
Is porridge healthy?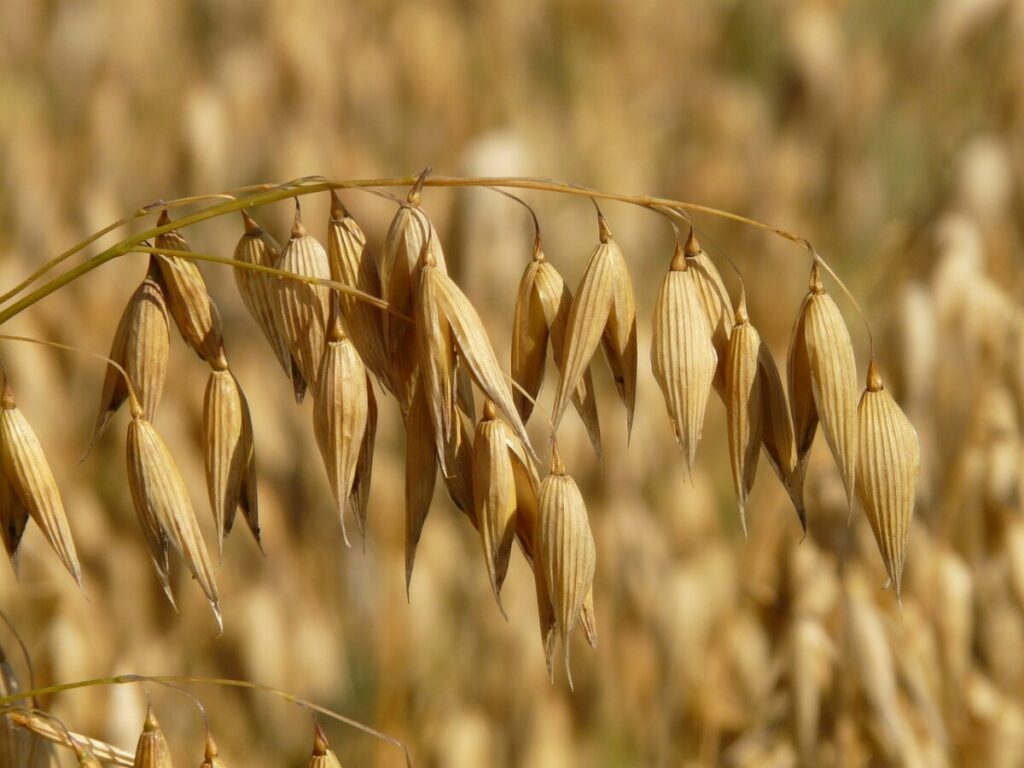 Porridge is very healthy, especially if you can manage to not have any sugar with it.
A normal portion of dry oats contains about
150 calories
5g of protein
27g of carbs
4g of fibre
hardly any fat
Oatmeal / oats / porridge is all more or less the same thing. Oats counts as a whole grain which are grains in as close to their natural state as is edible. They retain their natural bran, with lots of valuable fibre, and germ, containing important nutrients.
Valuable nutrients in oats include iron, magnesium, zinc, selenium, B vitamins, calcium and potassium. Oatmeal also contains polyphenols – an anti-oxidant and anti-inflammatory. Polyphenols help to reduce oxidative stress where free radicals damage cells. They have also been linked to a protective effect against heart disease, stroke, type 2 diabetes and obesity.
One of the ways oats helps obesity is that they have a high satiety level and they improve insulin sensitivity. A breakfast bowl can take you through to lunch, with no need to snack in between. Snacks are more often of the type of food that isn't good for us, as well as providing extra, unwanted, calories
Adults need about 30g of fibre each day and an average bowl of oats provides 14% of that. That fibre also happens to be of a special type called beta-glucan. Beta-glucan contributes towards reducing cholesterol and blood sugar, contributing to a lowered risk of heart disease and type 2 diabetes.
As well as this valuable function, beta-glucan acts as an anti-oxidant helping to prevent hardening of the arteries;  fending off neurodegenerative diseases like Alzheimer's; maintain digestive function; prevent inflammation in the gut; act as a prebiotic, which our gut micro-biome loves; and inhibits the growth of bad bacteria. Quite the super fibre!
Studies have shown that including whole grains in your diet, including oats at breakfast, is linked to a lower risk of death from all causes – so your breakfast oats may even help you live longer!
Can you reheat porridge?
Porridge can be reheated in a saucepan, although it will have thickened so you'll need to add a bit more liquid
Or reheat in the microwave, also with a little more liquid.
Or you can even fry cold oats, so long as they are thick enough to be fairly solid. Shape them into patties first.  I like to fry them in a little butter and sprinkle with a spoon of Muscovado sugar – delicious.
What changes can I make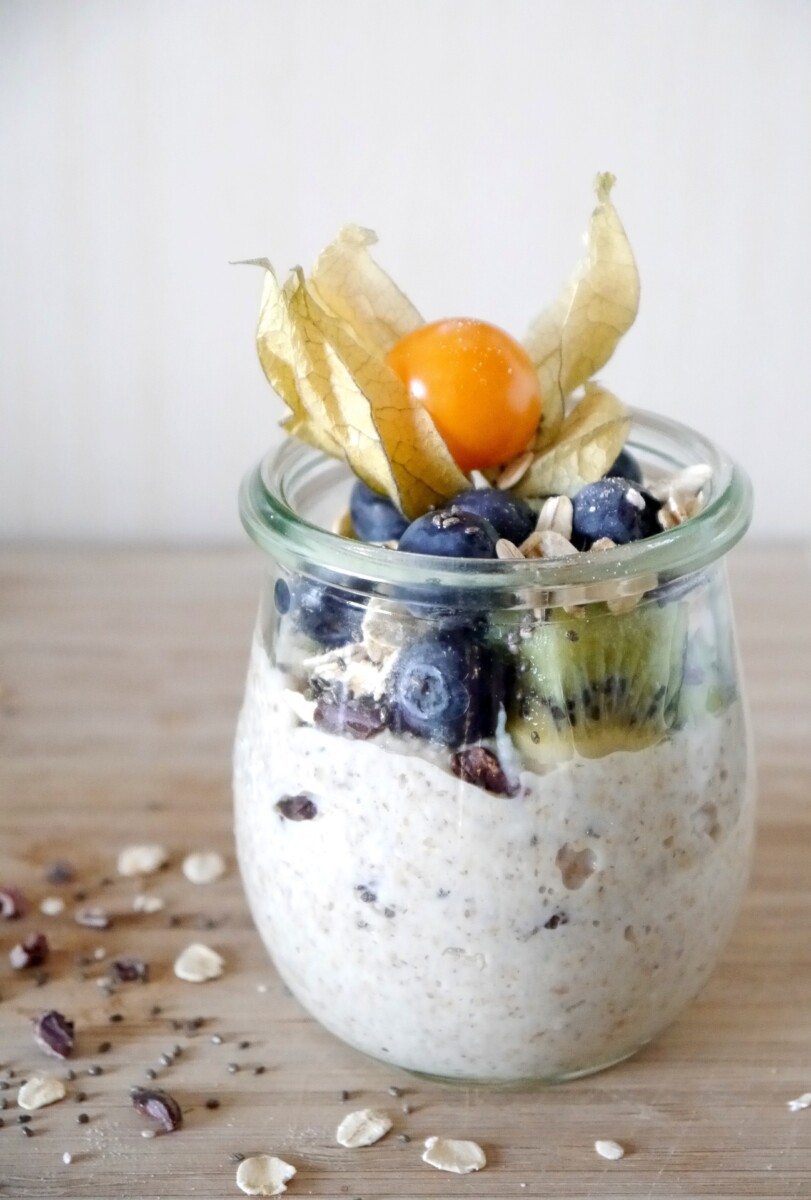 There is an amazing amount of different ways to flavour your porridge If you would like to get more fruit and vegetables into your life, always a good thing, or have veg averse members of your household, adding some into your morning porridge is a delicious way to achieve that.
Carrot porridge – grate a medium carrot per portion and add at the start for a cooked flavour, or at the end for a bit of crunch
'Zoats' have become popular where you add a grated courgette / zucchini
Cook your oats without the sugar or raisins, then top with

any combination of roasted vegetables that you like
fresh herbs
a soft boiled or poached egg
beans or lentils
sliced tofu
sliced avocado
a drizzle of any pesto
any chopped nuts, or nut butter

Orange porridge – add the zest of grated orange, and perhaps the chopped segments
Date porridge – chop 3 or 4 dates and top your oatmeal with them, or include when cooking
Apple cinnamon porridge – grate unpeeled apple while cooking, or at the end for a crunchier texture, add cinnamon on top or mixed in. Cinnamon is a well known anti-oxidant
Honey porridge – drizzle over runny honey
Golden Syrup porridge – or drizzle over syrup
Chocolate porridge – melt in 40g of plain chocolate per portion, or cook with a couple of teaspoons of cocoa
Change the liquid to any milk that you like, or fruit juice, fruit teas or black tea
If you would like to include more protein, add a scoop of protein powder, the unflavoured variety as the flavoured ones have all sorts of undesirable things in them
How to make creamy porridge
You may not want to make your porridge in the morning, mornings often being such a rushed time. instead you could put all the ingredients in a big bowl, cover, and leave to soak overnight. Overnight oats are one of the most popular ways to eat porridge – super easy, very transportable, and with almost an infinite way of changing the flavouring.
Soaking them overnight has the added advantage of making oats made with water taste creamy, as if they'd got milk in them.
Slow cooker porridge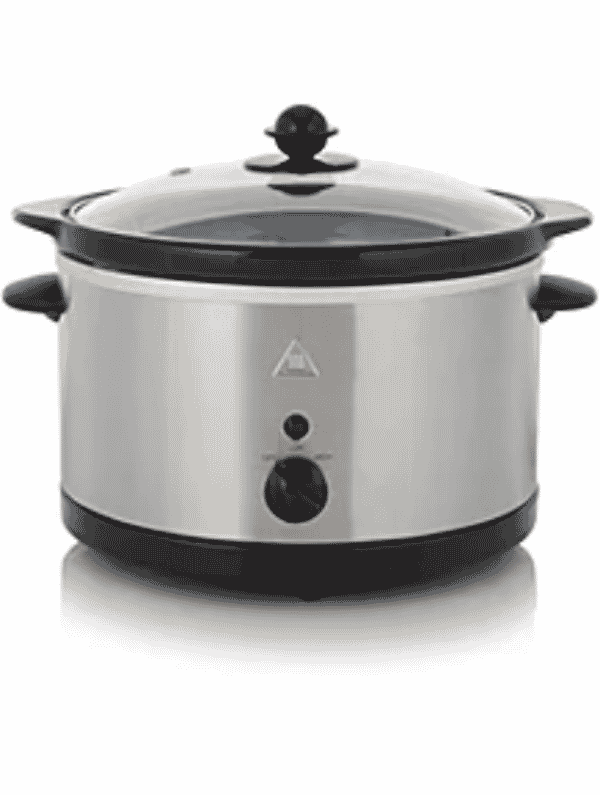 Don't want to cook in the morning, but still want your oats to be hot? The slow cooker may be the solution.
Simply put all the ingredients into a slow cooker crock, give them a good stir and cook on Low for 8 hours overnight. In the morning, everyone can help themselves to delicious hot and creamy porridge. If you want to use milk as the liquid, the oats will be super creamy.
Porridge on Meal Plan 1 and 2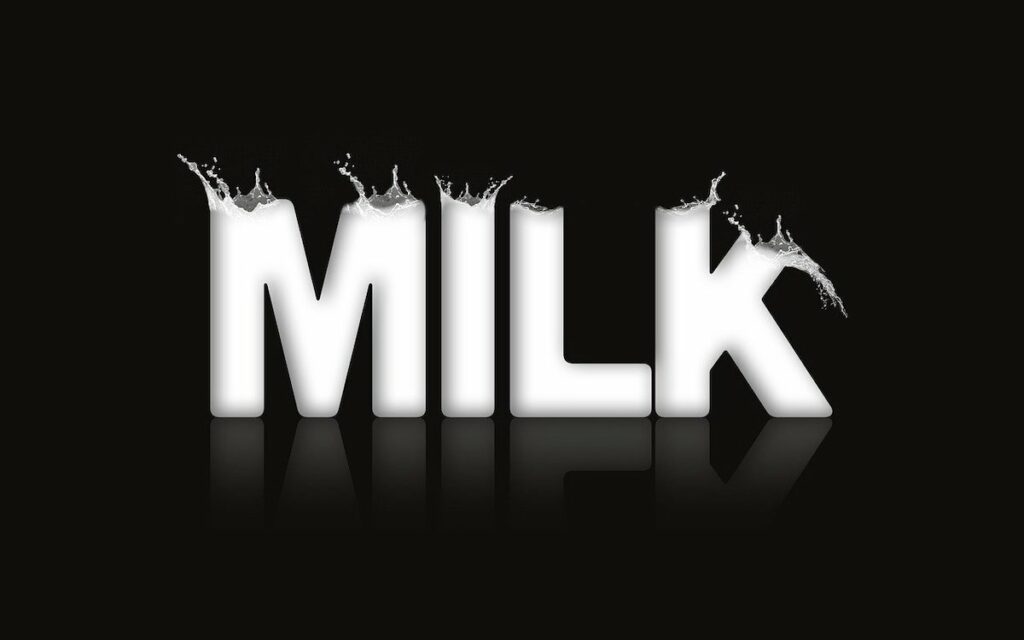 We have milk available on meal plan 1, no milk on meal plan 2, it's a vegan plan.
If you are following meal plan 1, you could either use the milk here, in your porridge, up to 380ml each time you make it. Or if you'd rather, keep the milk for your tea / coffee. There is a total of 3.4 litres (2 x 6 pints) in the plan
Raisins are used as they are a purple portion, the  hardest one to get. If you don't have them, use any other dried fruit – sultanas, home dried foraged apples or plums for instance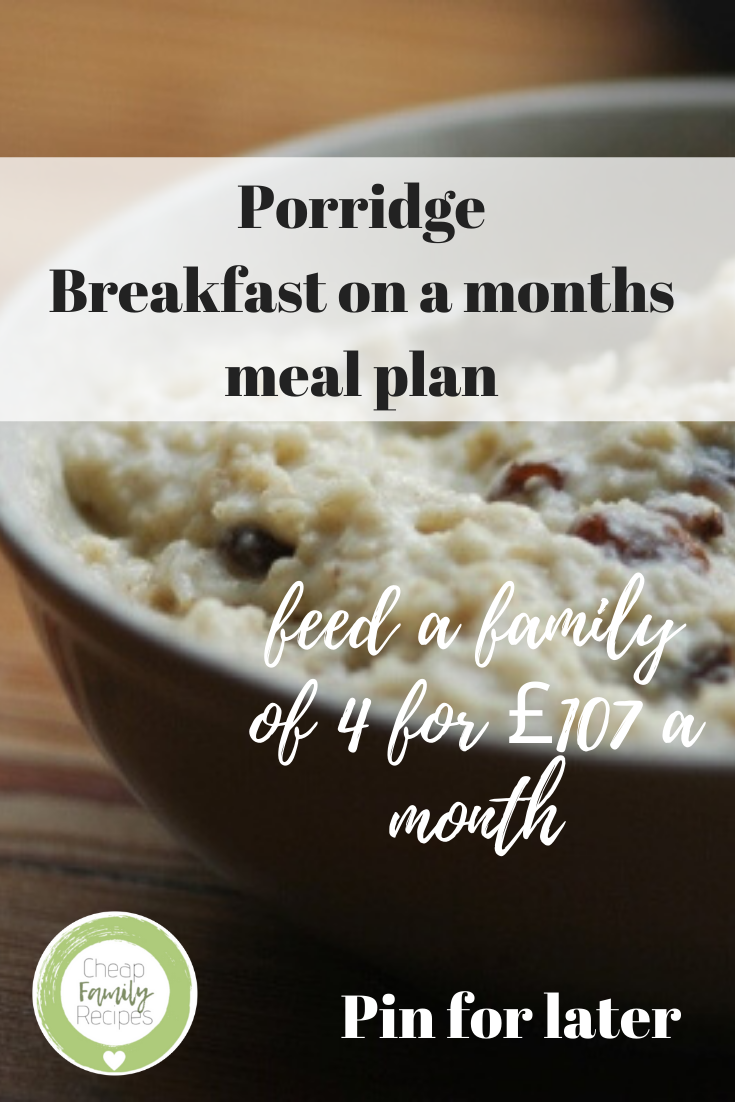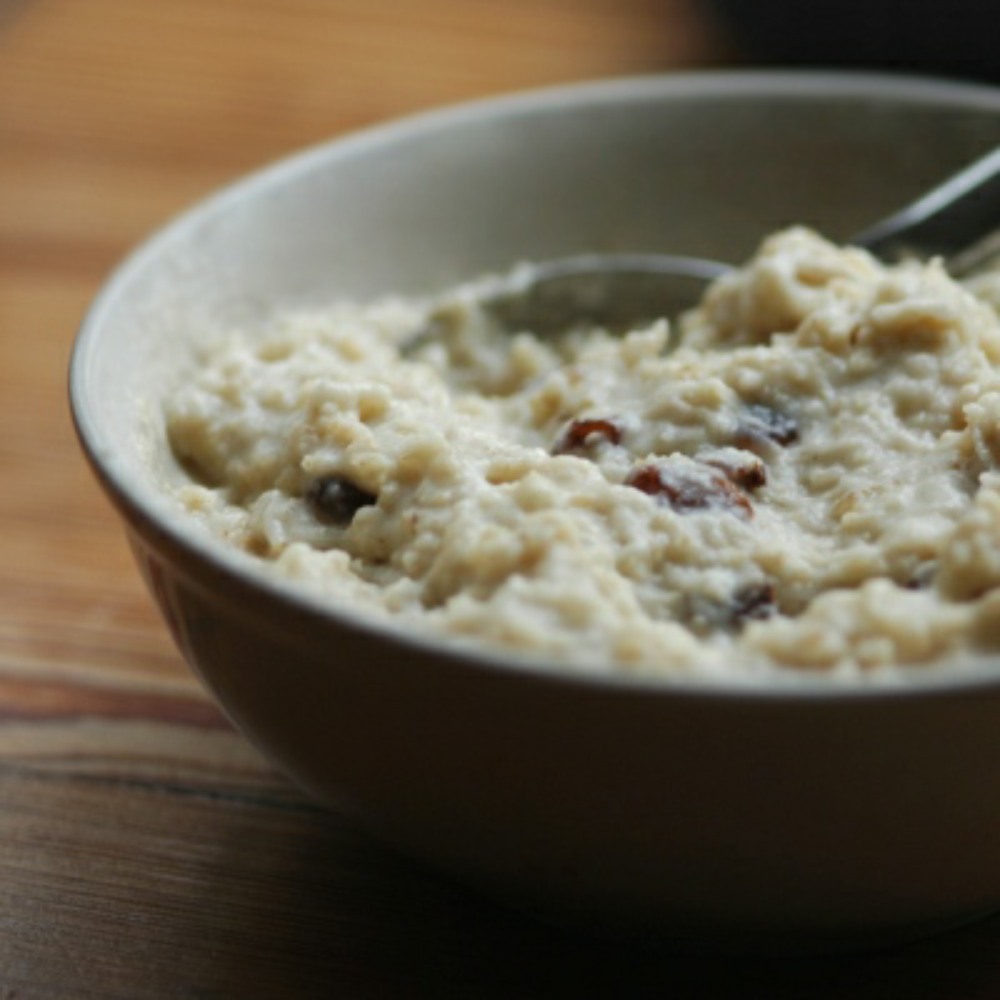 Cost per portion
17p for 4 servings
Click on the check box to cross off Equipment, Ingredients or Recipe Steps completed.
If you click and buy anything, I may get a small commission on the purchase. It won't cost you anything extra. Some are just things that I like and/or use myself rather than necessarily best value 🙂
If you enjoyed this recipe, would you please consider leaving a review? It would really help
Ingredients
90

g

raisins

40

ml

vegetable oil

10

g

sugar

110

g

oats

105

g

oats

the instant oat kind

pinch

salt
Instructions
Mix all the ingredients together in a saucepan over a moderate heat with enough water (900ml) to achieve a runny consistency.

Stir gently until oats have absorbed all the water, and mix has come together like a thick paste.
Equipment Needed
Nutrition
Nutrition Facts
vegan porridge oats
Amount per Serving
% Daily Value*
* Percent Daily Values are based on a 2000 calorie diet.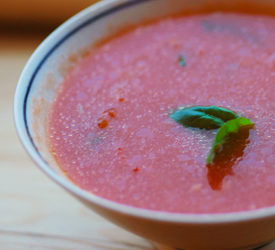 cheap family recipes feed a family of 4 for (just over) £100 a monthVegan Tomato & Basil SoupThis fresh and delicious tomato and basil soup is offered as an alternative option in the Celebration Week Planner, but can be enjoyed at any time, and as it uses tinned...
Take care of your family and your budget
Before putting together our meal planners we surveyed over 600 people to ask when faced with a tighter budget, which things they would struggle to give up.
Want to know more about how to feed yourself fantastically frugal food?