feed a family of 4 for (just over) £100 a month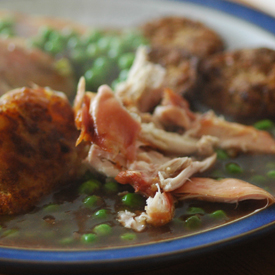 roast chicken dinner
Beautiful Sunday roast, fits a budget meal plan
Equipment
chopping board

small sharp knife

saucepan

mixing bowl

mixing spoon

food processor

baking sheet
Ingredients
For the stuffing
150

g

breadcrumbs

160

g

onion

50

ml

oil

or 50g lard

80

g

lemon

(1 small lemon) zested and juiced

salt & pepper to taste
For the bubble and squeak
Serve with
160

g

butternut squash

cut into 1 inch cubes, leave the skin on, it is lovely!

320

g

peas
Instructions
to poach a chicken
First bring cold water and the bird to the boil, in a large saucepan, or stockpot, then drain that water and add freshly boiled water, so that the bird is covered. Then simmer for about 2 hours or cook in your slow cooker for 6 hrs. For more flavour add some onion quarters and any herbs you have available.

Click here to start a 2 hour timer
gravy
Chop the onions into quarters, drizzle with a little vegetable oil and a pinch of salt and roast for approximately 25 mins until dark golden brown. Place in a saucepan with about a pint of stock, or (for better flavour) use the stock to deglaze the pan. Mix 20g flour with a little cold water to make a paste and add this to the gravy, stirring all the time to combine all the ingredients.

Click here to start a 25 minute timer

Cut up the butternut squash, and roast these at the same time, but keep them separate from the onions, as the onions are for the gravy.
stuffing
In a food processor, finely chop 160g onions and 150g bread to make fine crumbs, with the juice of the onion, this will combine to make a dough. Add the fat and the juice of the lemon and it's zest. Pulse until well mixed, and season with salt and pepper and dried herbs. Form into 12 balls/patty shapes and bake for 15-20 mins.

Click here to start a 20 minute timer
bubble & squeak
Cut potato and carrot into inch cubes and boil for 15-20 mins until tender, don't peel the potato, just wash it. Drain and mash coarsely (bits of carrot still visible). Shape into burger shaped patties about 2 cm thick, and fry in a non-stick pan until the top and bottoms are crispy.

Click here to start a 20 minute timer
Serve With
peas and butternut squash
After lunch
If this is the first use of your chicken this month, carefully strip off all the remaining meat for use in other recipes this month and store in the freezer.

Use the carcass to make more stock, (even though the chicken was poached, you will still get a good stock) and store away ready for use in your next soup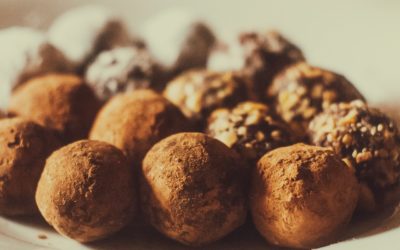 cheap family recipes feed a family of 4 for (just over) £100 a monthRich and fudgy TrufflesSticky, fudgy, chocolate truffles - who can resist. They make fabulous gifts at any time of year, shoosh them up by wrapping the in cellophane and tying up with a ribbon. I buy...
Take care of your family and your budget
Before putting together our meal planners we surveyed over 600 people to ask when faced with a tighter budget, which things they would struggle to give up.
Want to know more about how to feed yourself for £1 a day?