feed a family of 4 for (just over) £100 a month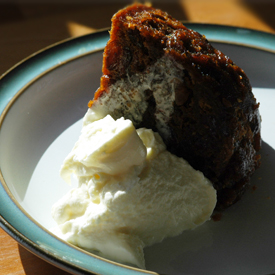 Christmas Pudding
a rich fruity pudding, for Christmas or whenever you fancy
Equipment
saucepan

mixing bowl

mixing spoon

pudding basin, 6 inch
Ingredients
120

g

sugar

60

ml

vegetable oil

2

tsp

mixed spice

300

ml

apple juice

250

g

mixed dried fruit

200

g

breadcrumbs

1

egg

whisked

100

g

Self-raising flour
Instructions
Warm the apple juice in a pan and then add the mixed fruit and leave to soak and cool.

Heat the sugar with 1 tablespoon of water in a heavy based saucepan, stirring until it darkens to a rich medium nut brown colour.

Pour this into the pan or bowl with your fruit. This will harden into toffee and may sizzle, so you will have a lump of toffee in some liquid, but do not panic, after about 20-30 mins cooling time, by stirring, you will be able to re incorporate this back into a liquid consistency.

Click here to start a 30 minute timer

Combine this fruit and sugar mix with all the remaining ingredients in a mixing bowl, stirring well.

Pour into a greased 5.5 to 6.5 inch pudding basin, made of microwave safe plastic, glass or pyrex.

This mix can then be microwaved, on full power for 2 sets of 3 minutes with a standing time of 3 minutes in the middle. If after the pudding has rested for a further 5 minutes it isn't set, you can add another 2 minutes.

Alternatively you can steam it on your hob for approximately 2 hrs or in your slow cooker on low for approximately 6 hours.

The end result will not have a runny centre, so aim for a set texture, but still dark and glossy and moist.
To Serve
serve with 100 ml whipped whipping cream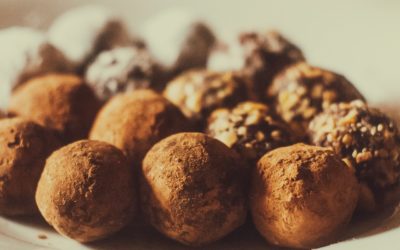 cheap family recipes feed a family of 4 for (just over) £100 a monthRich and fudgy TrufflesSticky, fudgy, chocolate truffles - who can resist. They make fabulous gifts at any time of year, shoosh them up by wrapping the in cellophane and tying up with a ribbon. I buy...
Take care of your family and your budget
Before putting together our meal planners we surveyed over 600 people to ask when faced with a tighter budget, which things they would struggle to give up.
Want to know more about how to feed yourself for £1 a day?