feed a family of 4 for (just over) £100 a month
I have made this with both fresh and frozen mushrooms and either option works really well

Click on the check box to cross off Equipment, Ingredients or Recipe Steps completed.
If you click and buy anything, I may get a small commission on the purchase. It won't cost you anything extra. Some are just things that I like and/or use myself rather than necessarily best value 🙂
If you enjoyed this recipe, would you please consider leaving a review? It would really help
Ingredients
400

g

mushrooms

50

ml

oil

2

cloves

crushed garlic

2

slices

homemade bread

with the crusts removed (save these for croutons) - weight approximately 160g

850

ml

stock

made with 1 stock cube

1

tsp

mixed spice

70

ml

single cream

50

ml

whipping cream

Salt and pepper
Instructions
Soup
Rinse the mushrooms, wipe and trim the ends of the stalks, then cut into small pieces.

Put the oil in a heavy saucepan, put in the mushrooms and let them soften.

Soak the bread in a little of the stock.

When the juice begins to run from the mushrooms, add 1 clove of the the garlic, crushed, salt, pepper, mixed spice and stew for a few minutes more.

Squeeze out the bread and add to the mushrooms.

Stir until the bread is amalgamated, then add the stock. Cook for about 15 minutes.

Click here to start a 15 minute timer

Liquidise the soup, which will end up the consistency of thin cream, with little grainy particles of mushroom suspended in it. Return to the saucepan, add the cream and check the seasoning
Croutons
To make your croutons, cut the crusts into 1cm cubes and fry with a crushed clove of garlic until golden brown.
Leftovers
Serve half of the recipe for 4 people at christmas lunch if following our Christmas planner, reserving approximately half for the pork in tortilla wraps meal. Refrigerate the leftovers until then. If not following the planner, the soup freezes very well, or just have it 2 days running
Notes
The salt value excludes any you have added yourself, as each family's tastes will differ
Nutrition
Nutrition Facts
cream of mushroom soup
Amount per Serving
% Daily Value*
* Percent Daily Values are based on a 2000 calorie diet.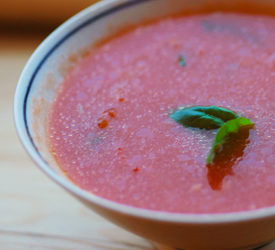 cheap family recipes feed a family of 4 for (just over) £100 a monthVegan Tomato & Basil SoupThis fresh and delicious tomato and basil soup is offered as an alternative option in the Celebration Week Planner, but can be enjoyed at any time, and as it uses tinned...
Take care of your family and your budget
Before putting together our meal planners we surveyed over 600 people to ask when faced with a tighter budget, which things they would struggle to give up.
Want to know more about how to feed yourself fantastically frugal food?